A native of Montreal, Canada, Dr. Stefanie Schwartz, DVM, MSc, DACVB earned her undergraduate degree in Psychobiology/Animal Behavior from McGill University before completing her Doctorate in Veterinary Medicine (1984) and Master of Science (1988) in Ethology (the study of animal behavior) from the University of Montreal. Dr. Schwartz is among the first to be board-certified by the American College of Veterinary Behaviorists.
With specialty credentials and many years of experience, she offers house calls in Orange County and San Diego County. 
Dr. Schwartz has been Clinical Adjunct Professor at the Virginia-Maryland Regional College of Veterinary Medicine since 2009, and was previously Clinical Assistant Professor in the Department of Clinical Studies of Tufts University School of Veterinary Medicine in Massachusetts (1990-2006). She has been on staff at prestigious specialty practices including Angell Animal Medical Center in Boston, Massachusetts. She has lectured at veterinary schools and conferences around the country.
Dr. Schwartz has appeared on television and radio broadcasts, including:  "Swift Justice" with both Nancy Grace and Jackie Glass (CBS/Fox); PBS "NOVA: Animal Hospital"; and CNN News.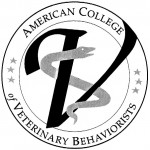 She was the first to prove the existence of separation anxiety syndrome in cats and showed how it resembles separation related issues in dogs. She is also the first to discuss grief reactions in pets as a special type of separation anxiety. She has contributed to many web sites and pet magazines, including Cat Fancy Magazine and Dog Fancy Magazine.  Scientific publications are listed on the Publications page; currently available books are shown on the Books page of this web site.
Inspired by her patients and sustained by her own multitude of pets, Dr. Schwartz lives in Southern California with her family.
"One can measure the greatness and the moral progress of a nation by looking at how she treats her animals."
Mahatma Gandhi
This web site is dedicated with profound love to my parents, who taught me everything I needed to know:
1) Be nice to one another;
2) True love never dies; and
3) Live your life so as to make yourself and your parents proud.